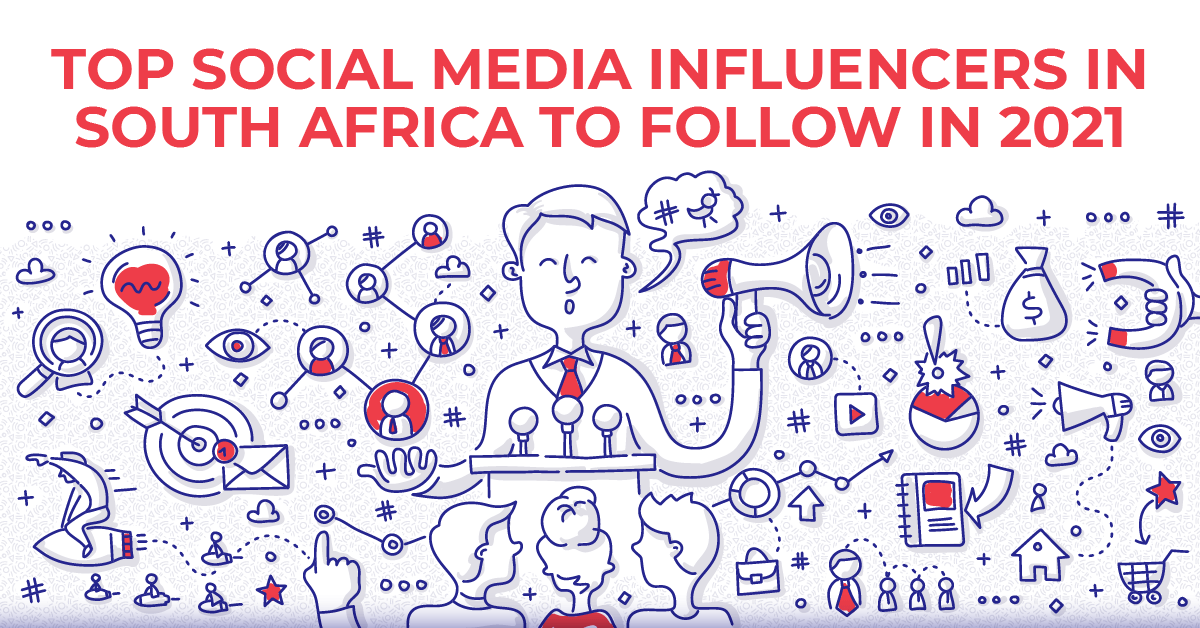 Top Social Media influencers in South Africa to follow in 2021
Social Media Influencer marketing is a fast-growing marketing activity and media channel across South Africa and the rest of the world. That's no surprise considering that most of us check our social media feeds on a daily basis.
Brands in South Africa are already realising the power of this new marketing channel and are starting to include social media influencer marketing as part of their marketing strategies. But let's clear one thing up.
What is influencer marketing?
A lot of people might think Social Media Influencer marketing consists of marketing teams indiscriminately throwing money and freebies at those of us who are lucky enough to have racked up thousands of followers online.
Spoiler alert: it's not. For many reasons:
First of all, many social media marketing influencers work very hard on building their own brands and cultivating an organic and engaged online following. They dedicate as much time to it as others do to traditional 9-5 jobs (if not more).
They obsess over fun and creative ways to create content that people will love.
They keep up with the latest social media trends, tips, and tricks.
They spend a lot of time with brands and PR teams to assess whether a proposed brand collaboration fits their own brand and values or not. And they spend even more time with the brands and PR teams they deem a good fit to build meaningful collaborations and make sure they know the brand through and through.
Similarly, PR and social media influencer marketing teams work very hard on their influencer marketing campaigns.
They assess the potential that each and every collaboration opportunity would bring to their brand before moving forward with it. Whether that's based on reach, engagement, audience demographics, brand values, or lead generation, depends from one brand to another and from one campaign to the next.
Choose brand fit influencers for your social media marketing campaigns. Know at which stage to use a type of influencer. Is it the awareness, engagement, leads or sales stage?
But one thing is constant - marketers will always be deep-diving into analytics to prove ROI (return on investment) and to find the perfect mix of marketing channels that will help their brand achieve its goals.
So if they've chosen to work with an influencer, there's certainly a lot of strategy and planning that went into it.
And their work doesn't end with influencer vetting and selection.
They build relationships with each and every influencer they get on board, ensure they become virtual brand experts, draw up collaboration contracts and full-fledged campaigns, coordinate with the influencers throughout the duration of the campaign/contract, and ensure they maximize the value from the collaboration for all parties.

And, of course, measure and prove ROI.
So yeah - hard work all around. For more on influencer marketing, click here.
But now it's time for my round up out Top Social Media influencers in South Africa who are KILLING IT right now. From lifestyle, fashion, and beauty, to food, health, family, sustainability, entrepreneurship, motivation, and wellness - this influencer list leaves no sector behind!
Top Social Media influencers in South Africa to follow in 2021
Boitumelo Thulo
Boity is a South African TV personality, rapper, actress, businesswoman and model. She inspires her audience by her success journey where she proved that embracing passion and hard work pays off and lands you on a throne!
Refiloe Phoolo
Professionally known as Cassper Nyovest, Refiloe Maele Phoolo is a South Africa rapper, dance, songwriter, entrepreneur and record producer.
Bonang Matheba
A multi-award winning radio host, TV presenter, MC, and style icon, Bonang Matheba is known for her strong work ethic and determination to follow her dreams. She is referred to affectionately by her fans as Queen B. Bonang was recently a panellist on #WeSeeEqual gender equality UN summit, as well as a host of the Global Citizen Festival alongside Oprah Winfrey, Naomi Campbell, Trevor Noah, and more famous faces! She has her own hit reality TV show, Being Bonang, that chronicles her glamorous life.
DJ Maphorisa
Themba Sonnyboy Sekowe popularly known by his stage name DJ Maphorisa, is a South African record producer and DJ. He has built an impressive catalog and name for himself in such a short period of time! Definitely one to look out for.
Kim Jayde
Tv host. Director. Producer. Blogger. Model. Kim wears many hats and wears them very well!
Sergio Ines
In his own words, Sergio's blog, What My Boyfriend Wore, is a "A Dandy's Diary About All Things Dapper." His Instagram account is a fashion diary and guide for men looking to find the ins and outs of men's style in Africa.
Kefilwe Mabote
Kefilwe is one of South Africa's most popular luxury and style influencers. She blogs about fashion, beauty, and travel. She has worked on over 180 projects with brands where her ability to express herself through fashion shines through.
Trevor Stuurman
Trevor is an award-winning visual artist who shares life as he sees it and experience through his creative lens on Instagram. Travel is one of his core sources of inspiration - so expect to find a lot of travel posts on his accounts too!
Aisha Baker
Aisha's blog Baked Online highlights beauty and fashion trends in South Africa and around the world. Aisha also launched Millennial Mama, a women's empowerment brand cantered around motherhood. Aisha aims to uplift and empower millennial mothers….and I am here for it!
Lee Fraser
Lee's blog has a great, comprehensive range of reviews covering fashion, grooming, food, drink, wellness, travel and tech! He has worked with a range of international and local brands including Whirlpool, Cotton On, and Hush Puppies.
Lovilee
Karen Kelly is a mom by day and creative blogger by night. She has a multi-award winning blog filled with DIY ideas, free printables, home decor ideas, and party themes. The blog also includes a lifestyle section with profile and expert advice articles.
The Blonde Abroad
Solo women travelers unite! The Blonde Abroad is a fantastic resource for women all over the world who want to find out more about traveling alone. Packed full of inspiration for destinations and travel tips, Kiersten's blog won't leave you asking for much more. Plus, she offers her very own all-female bespoke travel tours and educational retreats where you can relax and soak in new destinations alongside local female guides and hosts! Kiersten was named by Forbes as one of the Top 10 Travel influences. And for good reason.
Nuzhah Jacobs
Nuzhah is an entrepreneur and self-taught make-up artist based in Cape Town. She uses her social media platforms to share original content about makeup, hair, fashion and beauty. Hers is truly a story of working hard to achieve success and inspiring those around her through sheer creativity!
Rattle Mum
Rattle Mum is a parenting blog full of tips, reviews, trends and insights into the life of a parent. Tanya is a PR, content and communications professional by day - and a blogger by night. Not to mention a mother of two as well. Talk about a super mom!
Fashion Breed
Aqeelah's fashion blog, Fashion Breed, is regularly updated with photo-stories, everyday style, travel, events, and articles. She aims to educate, empower, support and inspire women with her content. Her unique taste in modest fashion is not one to miss!
Hermaine M
Hip-hop artist, brand influencer, photographer, and entrepreneur Hermaine M has left very little for the rest of us to do!
Rose and Thorns
Shante moved to Cape Town from England in 2010. She uses her blog, Rose and Thorns, as an outlet for her emotions and personal experiences - specifically when it comes to parenting, food, travel, and wine.
Dalin Oliver
Dalin is a South African comedian who started his on-stage journey in 2010. He has been featured on Comedy Central Africa, writing, producing and performing three one man shows, producing two recorded comedy specials, and a big screen debut in cinemas nationwide. Impressive!
The Incidental Tourist
Dawn is a traveller with a deep love for Africa, its people and the environment. She uses her blog to share her stories, photographs, reviews and discoveries from international and local travels. She focuses on sustainable tourism and ways that we can enjoy this beautiful world without compromise.
Nabilah Kariem
Known for her modest fashion, Nabilah has captured a lot of attention with her stunning style. She has been recognized by international publications and designers alike. She even launched a fashion line in collaboration with Canadian brand, Nourka, at the young age of 23!
Becoming You
Kathryn Rossiter is a South African lifestyle blogger and mom of 2. Her blog offers daily inspiration for women and is her platform for expressing her passion for writing and photography. She covers a range of topics including travel, style, decor, photography and beauty.
SpiceGoddess
Verushka is passionate about travel and education which is why she dedicated both her professional life (as a lecturer on Travel and Tourism) and personal life (as a blogger) to exploring the world of travel.
Tails of a Mermaid
Natalie Roos shares helpful travel tips and guides based on her personal experiences on her blog, Tails of a Mermaid. You can also enjoy content about food, wine and skincare on Natalie's blog!
A Zesty Life
Yolandi blogs about all things lifestyle, beauty, food, decor, and her family life. In addition to running her blog, Yolandi contributes to various South-African lifestyle and parenting publications and freelances for some communication projects. She started her blog to have a space where she could share things that inspire her and add zest to everyday life!
Rayne Alexander
If you're obsessed with makeup and skincare, Rayne is your girl. She posts frequent and honest reviews of all things beauty on her blog. She has also recently been sharing her experiences navigating the maze to millennial motherhood!
Anja Wintour
Anja loves fashion - but that's not all she blogs about! Head on over to her blog for a dose of culture, travel, and (as she puts it) weird thoughts!
Kerry Sharper
Kerry simply speaks her truth to inspire yours. She has a passion for words and plus size fashion. She shares whatever is on her mind but aims to keep her social platforms and blog positive spaces for women to love their bodies. Love the energy!