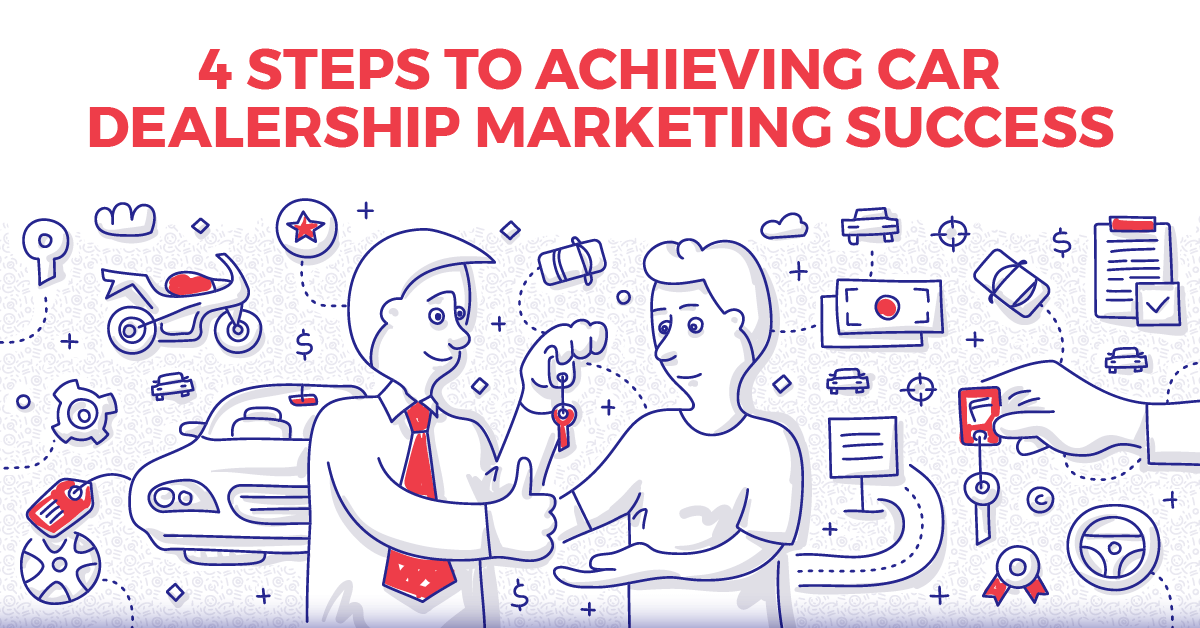 4 steps to achieving Car Dealership Marketing Success
It's 2020 and moving your marketing efforts online is a savvy decision.

Firstly, you can reach more people with Juicy Designs powerful Digital Marketing tools. Secondly, maintaining an online presence is far more cost-efficient than buying traditional marketing space like billboards. In short, Car Dealership marketing can improve your sales and online presence at the same time.

Let's dive into more detail on how your Car Dealership can achieve great Digital Marketing success…
Marketing and SEO for Car Dealerships
SEO (Search Engine Optimization) for your Car Dealership is one of the most important things impacting digital marketing. It consists of two elements: On-Page SEO and Off-Page SEO.

On-Page SEO ensures your car dealership's website is optimised for customers to find you on search engines, mainly Google. Using specifically targeted keywords in your website's content, titles, and meta descriptions are just one of the ways to achieve this.

Whereas, off-Page SEO spreads your brand outside of your website. This can be direct links from reputable websites or forums back to your website.

The easiest way to get these 'backlinks' is to either pay to have promotional articles published or to guest post on authoritative websites.
Social Media Marketing for Car Dealerships
Social Media Marketing for your Car Dealership can be another step for your business. Social Media platforms like Instagram or Facebook can help you engage with your target market audience. They also provide the most immediate and direct response from possible clients.

Our Car Dealership clients greatly benefit from Social Media Marketing. You can deliver visuals of new products to your audiences without them physically travelling to your dealership. You can post short messages or current offers on social media. The more creative the media account looks, the more likely people will engage with it.

Social Media facilitates connectivity. These days, word of mouth is often overlooked. But, it can help you spread awareness of your brand if you leave a good online impression on your customers.
Content Marketing for Car Dealerships
Cars can be considered a luxury purchase by some. But the more information you provide about your product, the more inclined people will be to look it up. One of the branches of good content marketing is blogging.

Writing articles oriented towards your product will familiarise the customer with your range of models. A well-written blog post can attract even people who may not initially be interested in a specific model.

But content marketing isn't only blog posts. This title fits all content created for marketing purposes, i.e., a video, an informative podcast, or a photo gallery.
Google Ads Marketing for Car Dealerships
If you want to invest in your Digital Marketing Ads, you can engage in Pay Per Click advertising also know as Google Search Advertising. PPC works via direct visits to your website.

For example, you can make a banner or a commercial post. When people click on it, they're directed to your website. PPC, as the name suggests, costs you money for every click the ad generates. These costs vary according to the competition surrounding the keyword you're targetting.

Google and Facebook both offer PPC services; you only have to choose what is right for you.
Ready to Give Car Dealership Marketing a Try?
We hope having read this article you now have an idea of how and why digital marketing could help your Car Dealership business. If you have any questions, feel free to contact us. We'd love to hear from you!